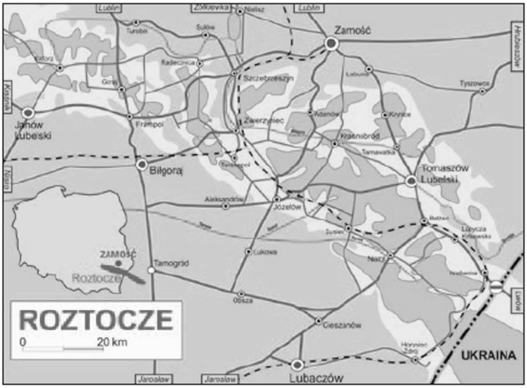 Roztocze
Roztocze is a wide range of hills 15-25 km and length 180 km, stretching from Kraśnik to Lviv. From the north it borders with the Lublin Upland, and in the south it rapidly descends towards the Sandomierz Basin. The highest elevations reach 400m above sea level.

Polskie Roztocze is 110 km long and divided into three parts: Western, occupying more than half of its area, stretching from Kraśnik to Zwierzyniec, characterized by the steep slopes of the hills, deep loess ravines and a relatively small amount of forests; middle, occupying the area from Zwierzyniec to Narol, picturesque, lesiste, the most visited and best developed for tourists, and the smallest – Southern (Eastern) stretching from Narol to Horyniec-Zdrój, depopulated after World War II, lesiste, with numerous wooden Orthodox churches, traces of non-existent villages and forgotten cemeteries, and dozens of Soviet concrete bunkers belonging to "Molotov Line".
Zamość and the Roztocze hills complement each other perfectly, like Florence and Tuscany, Barcelona and Costa Brava or Dubrovnik and Dalmatia.
Zamosc – you know – from 21 years on the elite UNESCO World Heritage List, a unique example of beauty and harmony, a brilliant work of a thinker and a military man, Hetman and Chancellor Jan Zamoyski, commonly regarded as the most perfect realization of Renaissance urban planners' dreams of an ideal city. In the middle of the square – city ​​lounge – surrounded by beautiful townhouses, farther on is a magnificent cathedral, academy, the palace and the monument to the founder, who looks at his work with pride from the horse's back. Everything is surrounded by city walls, which made Zamość so powerful, that foreign troops never captured it.
And Roztocze? These are hills just outside the city, covered with a checkered pattern of fields and pine forests smelling of resin, cut by the valleys of rivers and streams. One of them meanders among the meadows, others rush like mountain streams creating picturesque gorges. From the south, Roztocze is surrounded by the Solska Primeval Forest, one of the largest forest complexes in Poland, here you can wander through fields and forests for hours without meeting anyone. There are charming towns in the valleys and on the slopes of the hills, m.in. Zoo – the pearl of the mite, the historic Szczebrzeszyn, Healing body and soul Krasnobród, and among the forests of the village, which are not easy to find even with a map, where time flows slower, more worthy-.