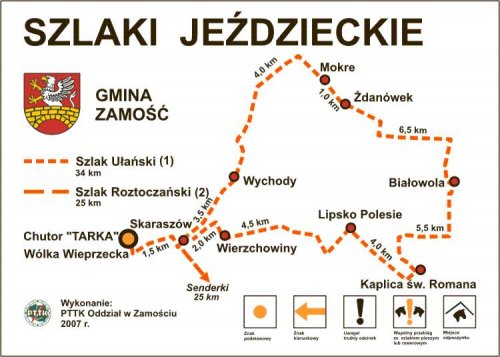 Roztocze is a perfect place for practicing all forms of active tourism, from recreation to breathtaking extreme adventures.
Over 1000 km of hiking trails have been marked out in Roztocze, walking and educational paths. They lead the most interesting parts of the region. When going to the Roztocze National Park, you must remember, that it can be visited between sunrise and sunset, only marked trails and paths, and admission to some of them is paid. It is best to start visiting the park with the exhibition of the Educational and Museum Center of the Republic of Poland in Zwierzyniec, at ul. Beach 3.
The mountainous Roztocze and the neighboring Solska Primeval Forest are a paradise for cyclists. There is little traffic on public roads, and there are no cars on paved forest roads. There are several hundred kilometers of marked bicycle routes. Mostly near Józefów – the bicycle capital of Roztocze, Janów Lubelski, Krasnobrodu, Narola and Zwierzyniec. There are also hiking trails, mostly also suitable for cycling, and a maze of roads and paths winding through fields and forests. However, it is worth remembering, that driving on the loess roads of the Western and Southern Roztocze after rain can provide an extreme experience, so is driving in hot weather, dry days along the sandy roads of the Central Roztocze and the Solska Primeval Forest.
Rafting down the winding rivers of Roztocze and Puszcza Solska provide unforgettable experiences: Wieprzem and Tanwia – beautiful and clean rivers, flowing through virgin forests and meadows. Rafting on Bukowa, flowing through the Janowskie Forests, it organizes the Marsh Brotherhood of Field Observers. They are safe rivers, shallow and usually sandy bottom. Overcoming some sections of the rivers (e.g. Tanwi from Re-Byzantines to Borowe Młynów) however, it does bring with it some difficulties. The most popular are trips on the Wieprz River. The navigable section of the river begins in Hutki, but the most popular is easy, 2-hour episode: Cover – Reservoir Rudka" in Zwierzyniec. Latem kajaki czekają na chętnych w Obroczy i na zalewie .Rudka' in Zwierzyniec. Fee for the shortest trips (e.g.. Obrocz-Rudka) is approx. 40PLN, too longer, hours (e.g.. Rudka-Szczebrzeszyn) ok. 60PLN, from a 2-person crew, including equipment and delivery of participants.
Horse riding is offered by a number of studs in Roztocze. Two routes have also been marked out, obydwa niedaleko Zamościa. "Ułański Horseback Trail" ma 34 km long, It starts at the Tarka stud in Wólka Wieprzecka and leads through Wyychody – Wet – Zdanów – Białowola – Wierzchowiny – Skaraszów – to return to Tarka. Second trail – Roztoczański has 25 km long, also starts in Wólka Wieprzecka and leads through Wojda – Bondyrz – Lasowce do Senderek.
There are several rope parks in Roztocze. The park on the reservoir in Krasnobród is very popular, consisting of 11 moderately difficult obstacles. But the real test of character is a visit to the park by the reservoir in Janów Lubelski with a 200-meter long rope slide over the beach and the reservoir, devil's pendulum – by tandem or single jump from a height of 16m – and Power Fan – a vertical jump down from height 13 m, with progressive braking. But they also have less hardcore suggestions there.