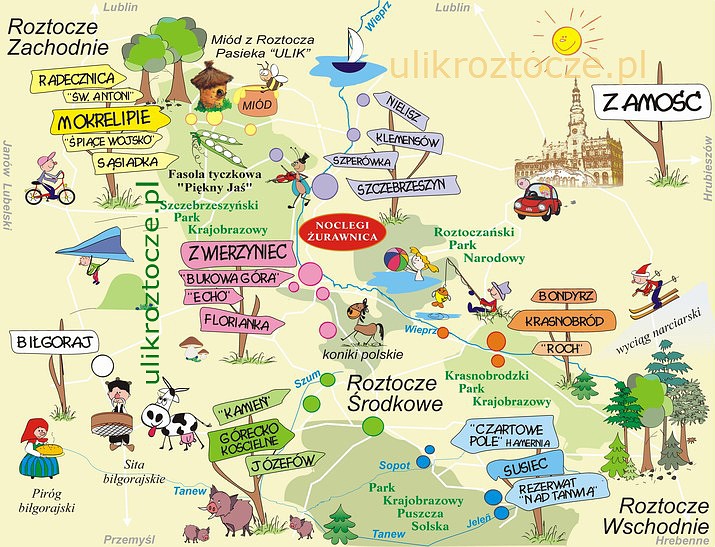 Roztocze is not only about contact with unspoiled nature, crystal clear air and the smell of resin, but also picturesque towns, interesting monuments and cultural events. Calm, silence and plenty of sunny days allow you to rest, to relieve stress and gain strength.
Marysieńka Sobieska has already used the health benefits of Roztocze. Also today in sanatoriums of spas: Krasnobród and Horyniec-Zdrój, whose traditions date back to the nineteenth century, every year hundreds of people recover. An additional advantage of both resorts is the microclimate, silence and beautiful location.
Hotel offer, guesthouses and agritourism lodgings is very rich. Everyone will find something for themselves, regardless of, if he is going to pick mushrooms and berries, explore the area, or simply hide in the forest wilderness.
On hot days, the sandy beaches of Roztocze bathing areas in Janów Lubelski are tempting, Frampolu, Majdan Sopocki, Zwierzyniec and, significantly enlarged in recent years, in Józefów and Krasnobród. In case of inclement weather, indoor swimming pools are an alternative: in Horyniec-Zdrój, Janów Lubelski and Zamość.
Anglers will be interested in fish and beautifully situated ponds and lagoons, including the largest reservoir in the region "Nielisz '', and clean trout rivers of Roztocze classified as mountain waters. Who prefers trout without fishing, he should go to Bondyrz, where they serve it straight from the river.
A holiday in Roztocze is enriched by the cultural offer: museums and galleries, concerts, performances and festivities. The crowds are drawn by the Summer Film Academy in Zwierzyniec. Great classical music can be listened to, among others. in Narol and Krasnobród, jazz in Zamość, and folklore at numerous outdoor events. Several painters run their own galleries in Roztocze, min. in Szura, in Szczebrzeszyn, in Góreck Kościelny and Majdan Wielki. You can talk to the artists and find a remarkable souvenir from Roztocze.
History lovers will be interested in medieval settlements and the traces of the January Uprising, whose 150. we are just celebrating our anniversary. You can meet them, among others. in Krasnobród, Józefów Zwierzyniec, Panasówce and Batorzu. There are also many memorabilia of both world wars: trenches and cemeteries from World War I and monuments on the battlefields fought in the September campaign and by partisans during World War II(including the largest in Poland near Osuchami). They are also reminiscent of the pacification of the Zamość region, the tragedy of the Children of Zamość Region and the extermination of Jews.
in the footsteps of the Zamość Ordinance, which had a huge impact on the development of Roztocze, leads the Zamoyski Estate Trail, and the monuments related to it in Góreck Kościelny, Hamerni, Józefów, Nielisz, Radecznicy, Sitańcu, Susiec, Szczebrzeszyn, Zawada, Zamość and Zwierzyniec are marked with boards with a description.
The oldest, geological, The history of the region is presented on the Geotouristic Trail of the Central Roztocze region. It includes, among others. Młynarka hills near Szopowy and Wapielnia near Łuszczacz, old tunnels in Sen-derek and quarries in Józefów, Krasnobród and Nowinach (on the edge of which there are observation towers that allow you to see the surroundings within a radius of several kilometers) and the breakthroughs of the Tanew and Sopot with new piers making it easier to visit. All these places are marked with information boards. W 2012 year the trail was awarded with ROZTOCZAN – the award of the Local Tourist Organization "Zamość and Roztocze" awarded for the best tourist product of the year.