On the axis that divides the city in half, let's go to the market, down 3 Maja Street towards the eastern bastion.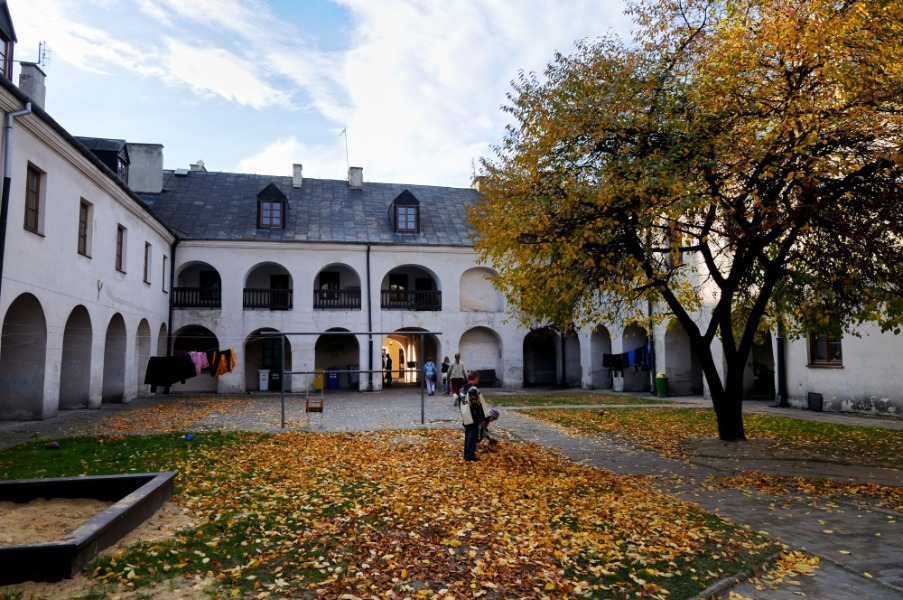 On the way, we must pay attention to a large building, called "Podkarpie", which formerly housed the monastery of Fr.. The. the Brothers and the hospital maintained by them, and today it is dedicated to a residential house, almost as many owners as the owners have windows.
Its founder, v 1660 r. there was a suffragan from Chełm X. Mikołaj Świrski. Having demolished the church, and next to it a monastery and a hospital, he placed in them the Hospitallers who nursed the sick as well as wounded soldiers, who and to the city and to other hospitals, when there was a need, they rushed to medical help.
The church was highly regarded. Fervent prayers were offered in it in front of the miraculous image of the Virgin Mary, famous for, which at the end of the 17th century as the private property of Zielotyński, a suburb of Lviv, during a fire in the suburbs of Lviv, one of the raging fires, when everything else was on fire, survived.
Carried to the collegiate church in a solemn procession, run by the Chełm bishop X, who was visiting Zamość at that time.
Stanisław Jacek in Święcice Święcicki, in front of the church oo. Brothers and sisters "thought", carry on without giving up. Having understood, that the image has chosen a place for displaying inexhaustible graces, it was entrusted to the monks.
The well located in the monastery courtyard attracted many pious people, who, by drinking from it, recovered their health with strong faith, as evidenced by the miracles written at that time.
After the suppression 1784 r. the brothers went to another place - and the walls were deserted, as if to a mockery they passed into dissenters at an auction. The miraculous painting was welcomed by ss. Merciful in Zamość, which leaving the monastery, they took him with them to Szczebrzeszyn.