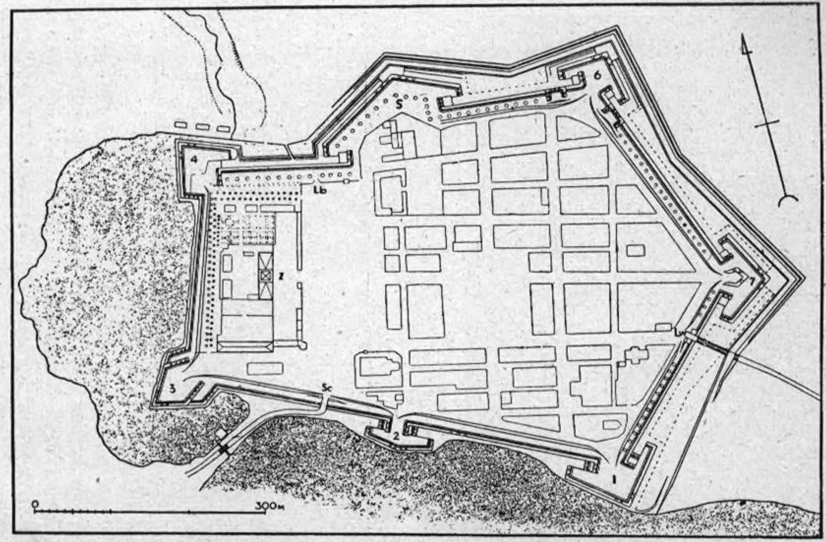 Plan of Zamość from. 1704. Stockholm, The War Archives (after Czołowski: Plan and view of Zamość from. 1704). 1:5000. Signs: 1, 2, 3, 4, 5, 6, 7 — bastiony, Lb — Lublin Gate, Sc — Szczebrzeszyn Gate, Lw — Lwowska Gate, WITH — Castle
Let's look at the Zamość plan from. 1704 r.
It is pierced by the correctness of the solution. If in the south the symmetry of the system has undergone some deviations, this is due to the situation of the area on which the fortress was erected and the desire to use the defenses of flooding waters, which if not deep, at least they surrounded the fortress with a swampy and difficult to go drowning.
The building to the west lies within the rectangle of the walls, it's a castle, founder's palace. Its gate lies on the city axis, and a view from it to the opposite end of the hillfort, on a mighty bastion reinforced by a rampart.
The entire city, including the castle, is surrounded by walls, in which the strong ones are repeated at certain distances, seven outward bastions. There are three gates in the walls, through which the entrance to the castle and the exit from it. In the north, the Lublin Gate, in the south of Szczebrzesko, from which the path through the causeway leads through the water, and in the southeast, right next to the bastion, also called "bachelor", Lviv Gate.
Behind the city gates, the suburbs hugged to it expanded.
Today only remnants of these walls have remained, though, and these remnants, a meager remnant of the former power, they inspire admiration with their strength and enormity. Three gates, the most powerful eastern bastion, the north bastion is also strong – eastern, ruins of the south bastion – western, walls, in which Łukasiński was imprisoned in the 19th century, arsenal - this is what remains of the old, partly in later times fortified fortifications.
The axis from the palace to the eastern bastion crosses the market square built up with rectangular blocks of tenement houses, which the placement of the town hall on the frontage line, not in the middle, took away the character of the center, rather, transferring them to the owner's palace.
A quadrilateral building, lying west of the northern gate - it is the famous Zamość Academy.
And in a small space of walls, several temples, for the glory of God, and refreshing the hearts of those raised up, it testifies to the piety of ancestors.