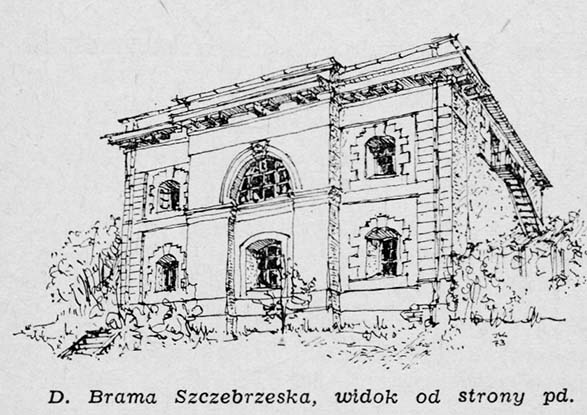 D. Szczebrzeska Gate, was erected as one of the 3 city ​​gates in 1. 1603-05 by the builder Błażej Gocman in the mannerist style, with an attic. During the reconstruction in the years 1770—71 it received rococo stone vases and sculptures of St.. Florian and St.. Michael the Archangel by Jan and Jakub Maucher; that is why it was also called Floriańska. It owes its present architectural form to the classicist reconstruction of approx. 1821—25. At that time, the attic was deprived of vases and figures in favor of a flat one, hipped roof. The figure of St.. Floriana, which has passed through 100 for years it adorned the cemetery near the collegiate church, was smashed by the Germans during the occupation. On the other hand, the surviving figure of St.. Michael the Archangel was placed on the d. Lviv suburb, on the property at ul. Ogrodowa no 39. Two-storey and three-axis facades from the south. i pn. they have a rough detail in the form of thick boning in great pilaster strips and in window openings. Inside - narrow casemates on the sides of the gate passage and similar rooms on the first floor are vaulted with cradles with lunettes. D. gateway, through the barrel vault, was walled up after 1866, when the road was made from the west., in the place of the split curtain wall of fortifications. From the east. adjacent to the Gate is a well-preserved curtain running to Bastion No. II. During the times of the Kingdom of Poland, there was a prison in the Gate; St. 1. 1824—26 Major Walerian Łukasiński.
D. guardhouse in front of the Szczebrzeska Gate (the. Hanka Sawicka no 5), it's small, a well-preserved classicistic building with approx. 1825, erected at the exit to the causeway, behind the moat. The stone blocks form the architectural frame of the façade with rustication at the corners and simple arcades, clearly distinguished against the background of the brick wall. In the west elevation. from the side of the road there are narrow shooting-windows.
A former dyke built at the end of the 16th century. runs south. zach. the. Hanka Sawicka (d. Szczebrzeska), where - a few hundred meters from the guardhouse - there is a historic bridge over the river. Łabuńce. Built approx. 1836 in the form of a wide semicircular arcade, belongs to the oldest river bridges in Poland.
We return from the guardhouse near the Szczebrzeska Gate to the collegiate church.