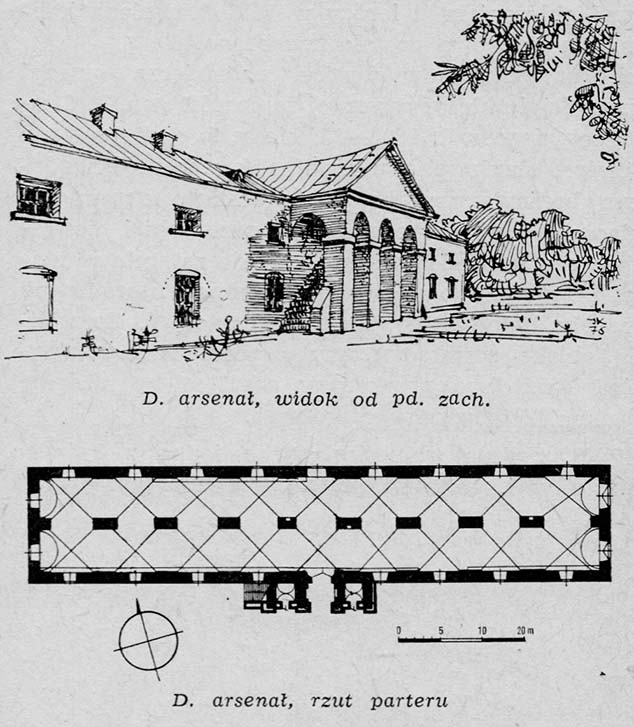 Arsenal, two-story, long (63 m), not very impressive building to the south. from the palace, is the oldest, next to the palace, the building of Zamość, erected in 1. 1582—83 by B. Moranda.
Armory (in the sources it is called "cekhaus"), funded by Jan Zamoyski, thanks to the trophies collected by the hetman during the war with Moscow and during other happy expeditions, and thanks to donations from various cities and personalities - as reported on the foundation board from 1582 in the interior - it functioned as a museum of the victorious Polish army. Od XVI w. was visited by guests and foreign diplomats. A magnificent cannon from this collection, donated to the hetman by the city of Riga in 1583, is still located in Wawel today (plaster cast at the Museum of the Zamość Region). The arsenal was supervised by the so-called. ceiquarts, who often combined this position with that of a military engineer and architect, e.g.. Jan Michał Link (XVII w.) or Jerzy de Kawe (XVIII w.).
From the hetman's arsenal, originally single-story, On the ground floor, a spacious interior in the form of a two-nave hall with pillars has been preserved, vaulted with a cross cradle. There are also vaulted cellars of similar size and layout, not available today, because it was buried in the 19th century. At the facade of the South. there was a gate in the style of tangential manners with austere fortress forms, similar to the city gates; only the rustic portal in the depths of the 19th-century portico is visible from it. After the arsenal fire in 1658 or a little earlier, stone stairs leading to the high attic were built on the sides of the gate.
Before the siege of the fortress, St. 1813 the wooden roof structure was dismantled.
The arsenal owes its modest appearance to the classicist reconstruction in the times of gen. Mallet-Malletskiego w 1. 1820—25, when the first floor was added, the original gate was enclosed with a three-arcaded, rusticated portico and the window frames were chained. Later disfiguring alterations and improper use led to the obliteration of the artistic and historical values ​​of the arsenal to a large extent and to the threat of collapse of the vaults. Luckily, the building has undergone restoration works and is to be handed over to a historical and military museum soon.
On the south. zach. from the arsenal on the former earth bastion No. III we can see brick walls partially preserved on the premises,that. It is built on a rectangular plan, covered with a gable roof, kept in neo-Gothic forms, with 4 ogival arcade recesses and slotted arrowslits in the long sides. The swamp erected in 2 third of the 19th century, po 1866 partially demolished, it currently serves residential purposes.
From the arsenal, we move to the south. do d. Szczebrzeska Gate.